Profile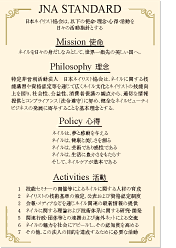 Petit Nail House has been beautifying nails since 2006. Licensed by the Japan Nailist Association (JNA), specializing in acrylics and elaborate nail art, we also offer simple treatments and therapy to soothe the tired hands and feet. You will always leave PNH with fabulous looking nails!

Locate us

You can find us beautifying nails in Jeric Salon@ Bugis Junction unit 02-01 (within Jeric Salon, yes you can now get your hair and nails done at the same time!)



How to get to PNH

By Train

Bugis Junction is situated right next to Bugis MRT station



Contact PNH



Mobile no: +65 96714115

Email: Petitnailhouse@gmail.com

Skype ID: mamiclackie

Msn ID: Clackie@hotmail.com



Tweet Tweet





Tag

Tagboard





Fun Stuff



Add me on Facebook



Add us on Facebook Groups



My idols





Nail school




I am licensed by Japan Nailist Association


Links
Karen Ashley
Celeste
Koji
Cheryl
Cindee
Elaine
Wendy
Ashley
Angelababy
Nira
Xiaxue
Dawnyang
Archives
November 2008
December 2008
January 2009
February 2009
March 2009
April 2009
May 2009
June 2009
July 2009
September 2009
October 2009
November 2009
December 2009
January 2010
February 2010
March 2010
April 2010
May 2010
June 2010
Recent
A complilation of my top fifteen favourites (and o...
Bridal nails.
Intricate rose bloom inlay.
She sells seashells on the seashore.
Bali!!!
The process of creating lovely inlay nails.
Embossed roses on funky black wallpaper background...
Pasta cooked by my Italian.
Tags replied!!!
French acrylics with pretty blossoms
Monday, November 9, 2009, 11:18 PM
Nails that 'out-bling' the bride's.
Did this set for a regular of mine set to attend a wedding dinner. We were having a conversation about how her nails will probably end up out-shining the bride's. Which unfortunately, I heard it happens quite often.Oops. :X

So brides to be!! You know what to do eh?! Don't neglect your nails! Nails are just as important for your big day and a simple french manicure these days just won't suffice!

These are acrylic extensions with hand-folded white roses. Not forgetting the AB bling-fest.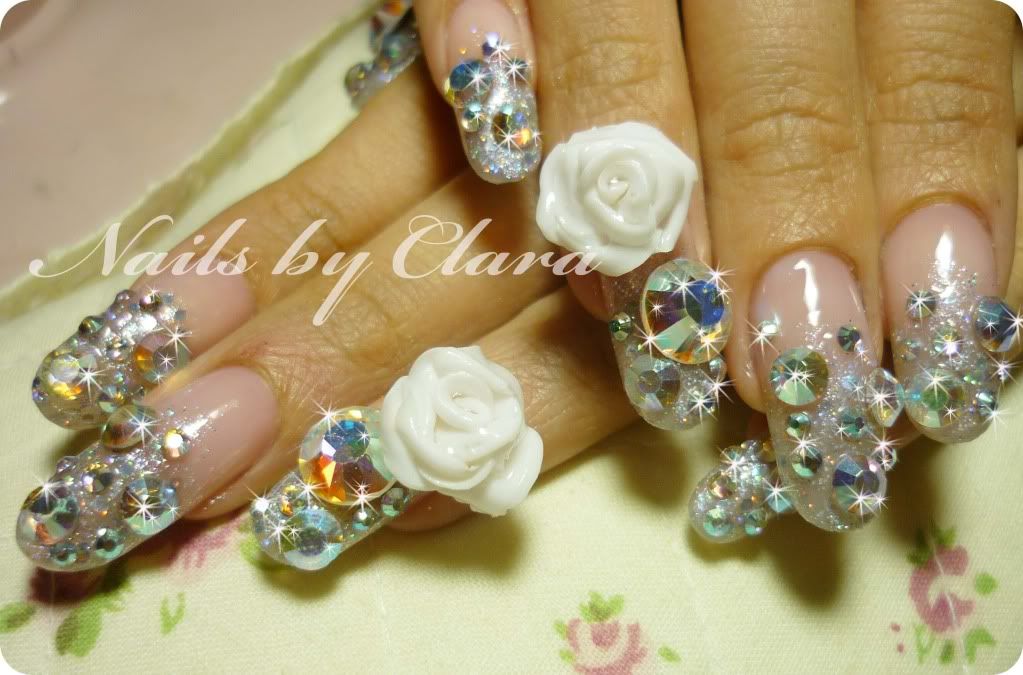 I figured out how to round-cut the edges of my photos! YAY! I'm a late bloomer tho, learning these simple things at the pace of a snail. :(

I recently made a trip to Phuket, it was nothing short of lovely. Rented a scooter and scooted around to 4 or 5 beaches. Saw a Bob Marley pub along the way and got hyped up about it. Screeched to a halt to take a peek and tried to take photos of the signboard while walking backwards. And the inevitable had to happen. I fell into a manhole. Okay I didn't go INTO the manhole, my entire left leg went in and thank god i didn't drop my slipper. So anyways, I badly bruised my inner left knee and scraped the skin off my outer left calf. Bad. Really bad.

Will post pics when I get the pics from Italiano.

Oh yes, I'm actively looking for locations to move to. I'll have to admit the Jeric Salon move was a temporary move. At Holland village, my landlord was a shark! Threatening to raise my rental by a great deal, so I moved out! At club street, it was an utter pain for my clients to find the place and it was always excruciatingly hot, and made it difficult to work with my chemicals.

ARRGGGGGH!!!! Anyone who has moved anything, a room, a shop, a house, knows how moving is a PAIN IN THE BOTTOM!

SO.

How you can be involved in this is, if you're a client, do suggest a preferred location, if you are a reader, you can too suggest a location. If you are a reader AND a real estate agent you know what to do. heehee. H.E.L.P

Ok time for snuffles now. zzz. Laters.

Toodles
Nail guru