Monday, November 24, 2008, 12:04 PM
My melody nails!!
Super duper cute my melody nails I did freehand with custom mix acrylic powder.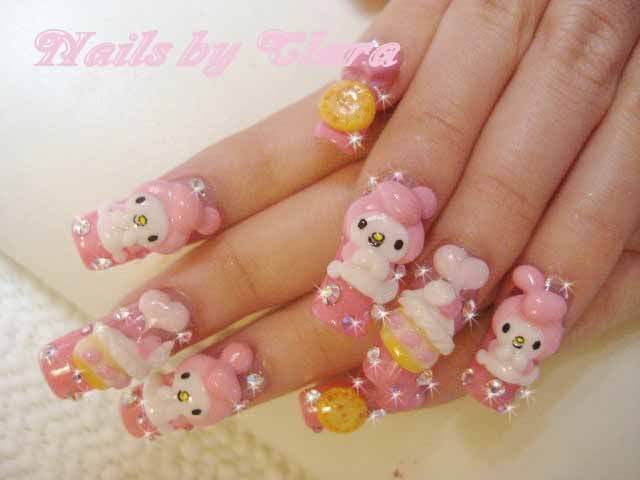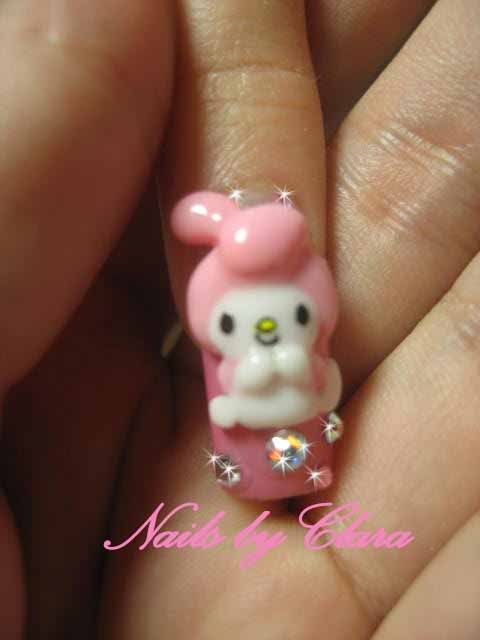 Isn't it so cute??
This set of nail art would cost $150, with extensions another $88 :)
Saturday, November 22, 2008, 12:13 AM
Raid
Recently went to raid the Club 21 bazaar with my girlfriends. Initially, I was really reluctant to go not because i was afraid i'd spend too much, but more because i was afraid it would be a waste of time. Thinking it would be one of those lousy sales with oversized clothing too big for a gorilla, or shoes too small for tinkerbell. but. alas..
Most of it belongs to karen. Better known as renzze i think, who is now in london and i miss her like hell. I only have one bag. the second from the left. Koji's bag is the extreme left one. Spent 500 bucks on 2 gorgeous D&G shoes.
Pictures for another time.
Gotta fetch my drunk birthday sister from HOLLAND VILLAGE! *FAINTS* I just can't get too far away from my workplace can i?
ta~
Nail Guru
Friday, November 21, 2008, 12:11 PM
Chevron lace tips
Bejewelled chevron lace tips!

Super pretty set of nails. VERY suitable for brides :)

Wednesday, November 19, 2008, 1:30 PM
Nail pics on my new blog!
Grecian goddess.
I made this set some time back. It's lovely with silver sparkles and white leaves and flowers. Nails of a goddess. :)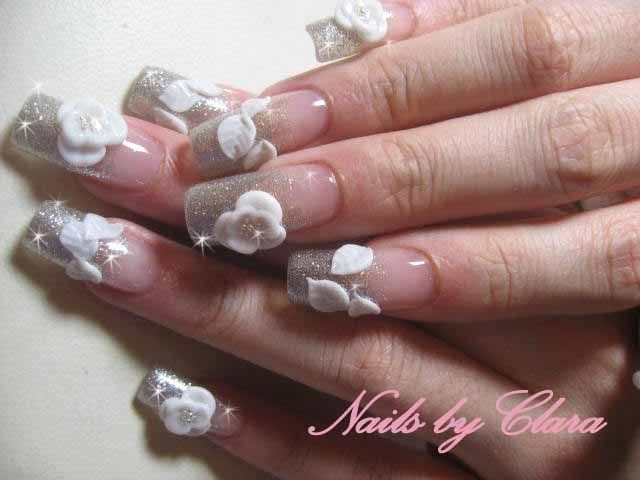 Ice blue cool nails.
This set also done some time back. Glittery blue gradation with flowers and painted sparkles.
Bubble heart and ribbon inlays.
Bubblegum hearts and puffy white ribbons all embedded in a base of pink/purple sparkles.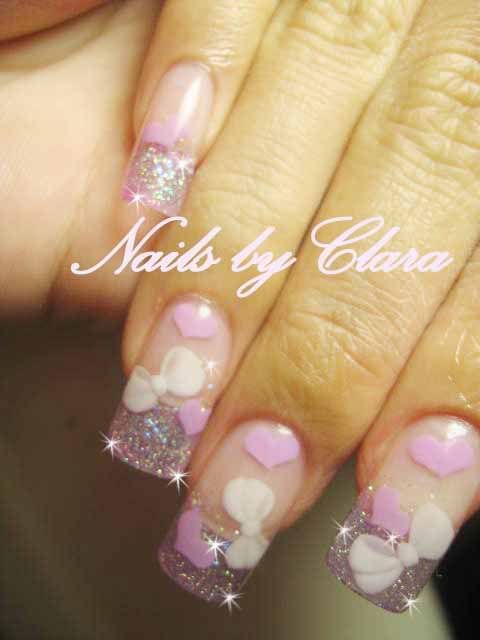 More comin' up!
Time for my appointment!
ta~
Nail Guru
Monday, November 17, 2008, 1:27 PM
My recent trip to Melbourne.
Photos from my recent trip to Melbourne for my galpal's wedding
End with a :)
More updates soon. I'm editing all the nail pics.
ta~
Nail guru
Sunday, November 16, 2008, 11:39 PM
Petit Nail Diary's new home!
Hi all my readers! I know I haven't been blogging for the longest time but this is what happened to my laptop.
By this blogpost, my screen has been completely wiped out. :(
All my photos and editing programs are in this baby. Now that I've gotten myself a spanking new laptop to replace this one, I'm back to blog y'all!
As you can see, with blogger, im able to add links and all the fun shizzaz to my page, and most importantly, a tagboard! So any questions about my work, prices, address, contact etc, just fire away!
As I've spent an entire evening doing this blog up, I'm exhausted.
With a brand new blog, expect to see more random entries other than nail posts from me!
Some announcements to make
Petit Nail house will be moving...yet again.... *groans* No thanks to my landlord who insists on raising my already sky-high rent. I have found a funkier, hipper space (though smaller), and I'm sure our decorating skills won't cease to impress you! New address and moving dates will be updated soon.
I have a new addition to PNH, a new helper! Her name is Phyllis and she has just as big a passion for nails as I do! Will post up pics of her, and her work soon!
Upcoming promotions, offering great price and value for a piece of art on your nails! So be sure to keep a lookout for our PNH seasonal promos, and promos of the month!
That's about all for now. Keep a lookout for updates!