Friday, March 27, 2009, 7:01 PM
Focus.
I really need to focus on my work right now.
The heart is sore, but work'll cure it, right? It always does.
I read a book called the '50 rules of life', some of you may have read it. There is a part that mentions 'lucid living'. Basically speaking, it means being in the know, having control over your own life, being aware of everything going on around you, but never necessarily having to act on it.
I think this is something i have to learn to do. Lucid living. Always being in the know and cutting out all the drama in my life. Sometimes you experience the same thing one too many times, you get so tired of it your system just shuts down automatically. This is whats happening to me right now. I ever read this somewhere, 'do what you always do, and you'll get what you've always gotten.' I thought i tried something new, but I got the same results, can i disagree with this line?
Happens to some i guess, not me. I tried a different method, alas, recieving the same results. I need to be more discerning when it comes to picking dates, or potential boyfriends. I think all girls really need to be able to discern the 'jokers' from the 'good people' (as my friend harry says)
We need to protect ourselves.
I need to protect myself.
Some random ramblings. Talk to ya soon people.
Nail guru
Monday, March 23, 2009, 5:54 PM
Ribbons and wallpaper.
A quick post now before i head off for dinner.
Some cute simple ribbons on a glitter base.
I've done this design before and posted it up in my myspace blog. But since we're here and I did the same design again, here, i'll post it up again. :)


Ok! Gotta go! Ciao
Nail guru :D
Friday, March 13, 2009, 8:11 PM
Hello kitty and tag replies.
Kitty nails! Red for the first time! It's usually pink i know. Hello kitty in her original red bow :D
Nails done on my best friend Koji, days back when she was still my client. So this was done a really long time ago.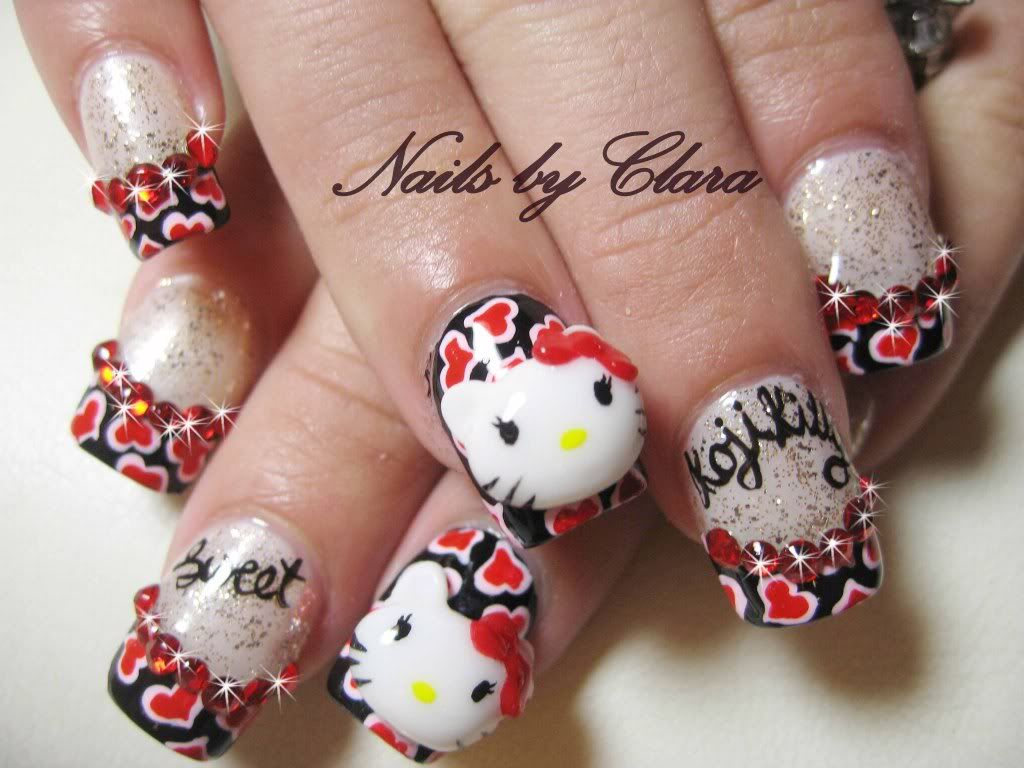 I did some baking sometime back, a favour to my cousin to bake a cake for his girlfriend. See, I was supposed to teach him how to do it, but the imbecile decided the kitchen was too hot for him to handle. So Clara jie-jie had to do EVERYTHING. Thought these photos were quite nice.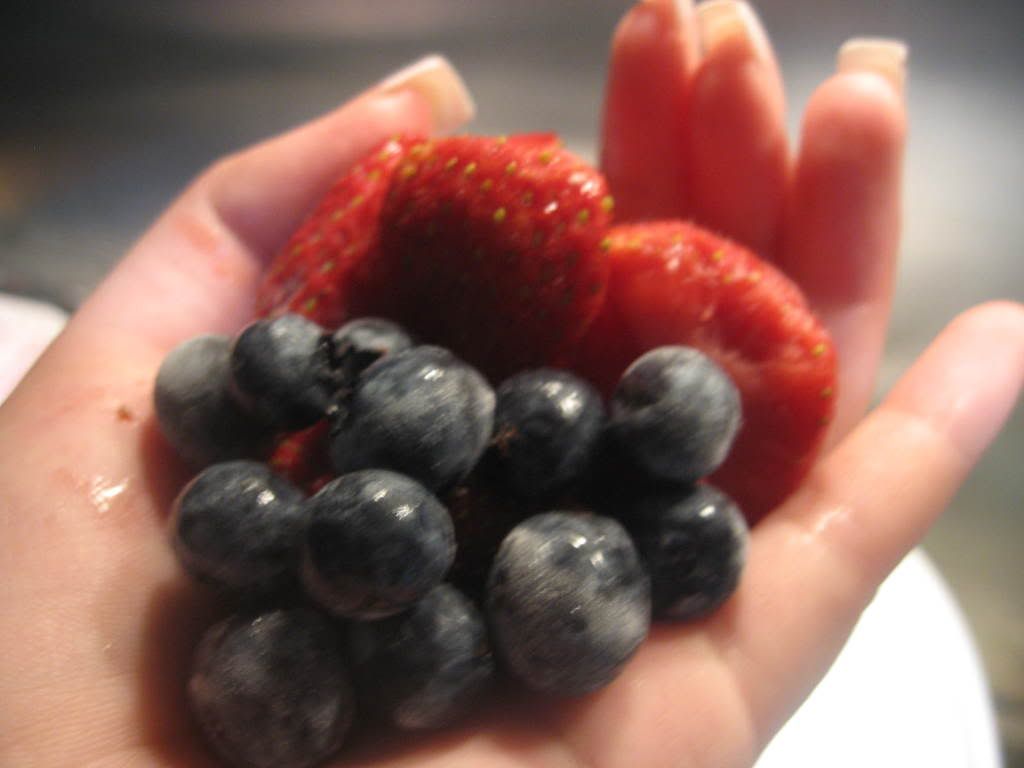 Scrumptious looking strawberries. My favourite fruit. :)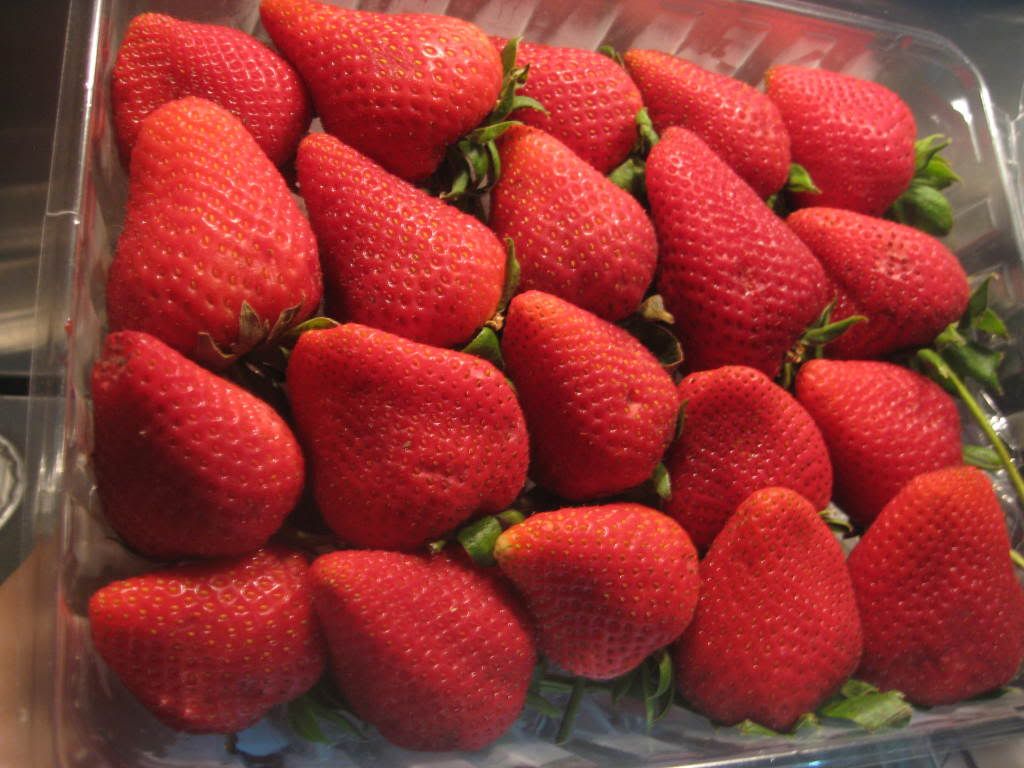 And the assembled cake. Forgot to take a full picture of it :p But you get the idea. Awwww. I can smell the strawberries already. Yum :D
Tags

Jen: Hi Jen! I use IBD gel in my shop. It can be soaked off but I do not offer it in my salon as yet because it is too costly. :)
Smile: That set is 60 solely for the nail art.
Lingling: Yes! I do express mani with nail art :) exp mani is 10 nail art cost depending on the design you pick. It should last at least a week depending on your daily activities, if you're lucky it can last up to 2 weeks. :D
Into nails: Yes i do conduct classes. Call to enquire on my class information.:)
Cheryl: yes yes, i'm trying my best. haha.
Ally: Hi, if you scroll down and read my older posts you'll find the information you need there. Each design differs with pricing so you'd have to pick something before i can quote you.
Trish: Hi, i assume you are referring to acrylic sculptured extensions. It will cost 88. :)
Iryn: Hi Iryn, i will try to post up prices.. when i remember that is. hehe.
Wendy: Hey, Gel extensions are 98, the set of nail art will cost about 140. :)
Just finished work. urgh. super exhausted.
Ta~
Nail guru
7:10 PM
Super long kimono nails.
It puzzles me till this day how this client of mine can handle such long nails. I couldn't. I'd probably not do anything. haha. But it's her call!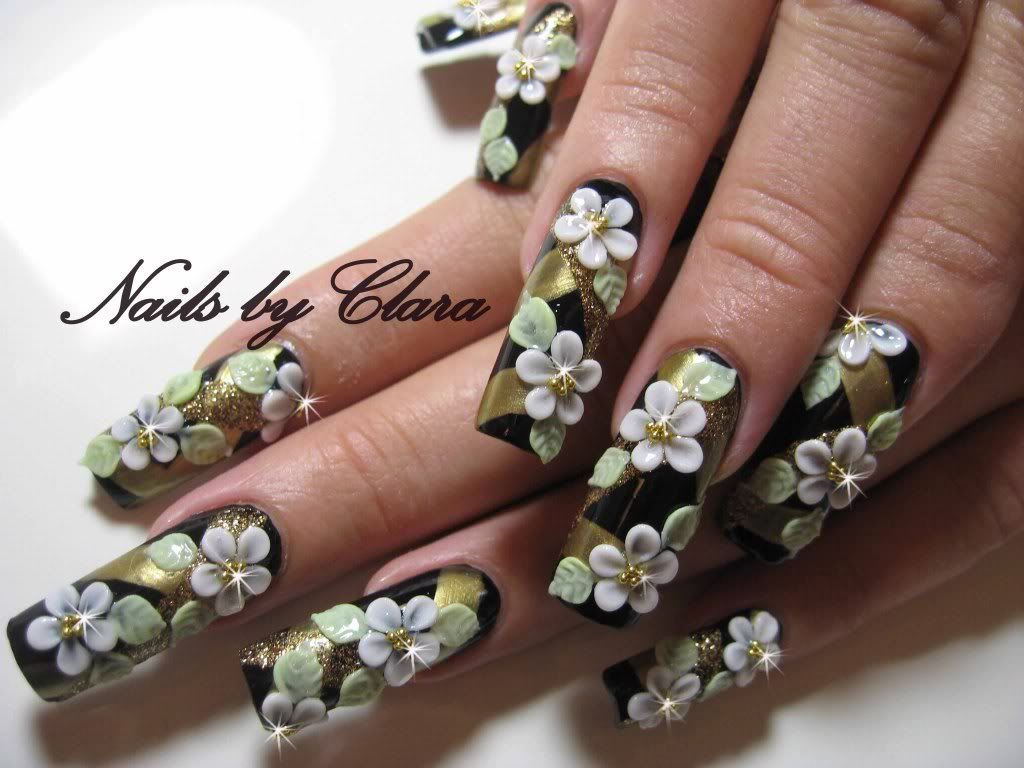 I enjoyed working on the background, the black and gold contrast, with the intricate white plum flowers and leaves. This set'll set you back about 120 bucks for the art alone. :)
Still working on my shop blog (tough work), so you can all refer to it for location, pricings, information etc. It'll be VERY detailed i promise.
Also.. am blogging right now while waiting for a client to soak off, so tags will be replied later :D.
Ta~
Nail guru
Tuesday, March 10, 2009, 1:54 AM
Seee! I'm really working hard!
See! I'm working really hard! hehehe. Laptop land. Btw, latest stash of nail mags are in. You can spot the april nail max in the pic. So drop by to browse soon yea.
Brb!
Nail guru.
Monday, March 9, 2009, 10:41 PM
Short and bling. Jewels and flowers.
Who says you can't bling up short nails! These are acrylic overlays with bling blings, this strange client of mine doesn't like extensions, so she sticks with the short nails and plenty bling. hehe.


This set i did on a client who has NEVER done or heard of acrylic before. Quite adventurous for a first-timer eh? :)
Just simple oriental looking roses. Emboss art as usual.
Tags replied in a post later. I'm working overnight on loads of photos here. Finally moved both my computers to the shop (i'm computer-less at home) and i'm consolidating everything so i can upload for the pure pleasure of my readers hungry for pics of my work :D
laters people!
Ta~
Nail guru