Saturday, December 27, 2008, 11:35 PM
BUSY!
I realise it's almost been a month since i blogged. egads!
Sorry lah. I have been really busy hunting for a nice comfortable 'petit nail house-esque' shop and i found one! Prior to this, I think I gave everyone the impression I will be moving to Mohamed sultan rd, alas there has been some changes and i ain't movin' there no more. heh.
Instead, just to pre-empt all my clients and future clients, I will be moving to 21 Club street. (my new address is so chio. like Club 21. hahaha) I will be providing a map and the full address in my next post as well as pictures and directions on how to get to the place. All i have to say is, for those working within the tanjong pagar, city hall, raffles place, chinatown vicinity, YAY TO YOU! Super near! No more battling after work hours traffic to come down to holland village!
I love this new place. It's one of those boutique shops, like a mini duplex with a loft of its own. Lovely.
I'm sure all of you would love it too!
Meanwhile.. nail pics..

Kimono inspired nails.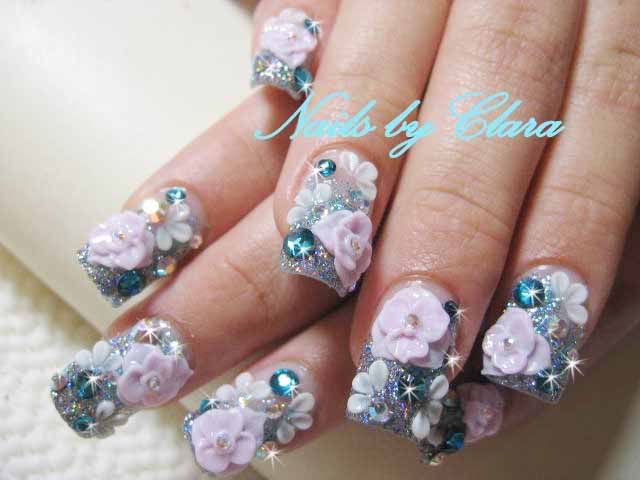 Simple pink polka dot french tips with crystals and white ribbons.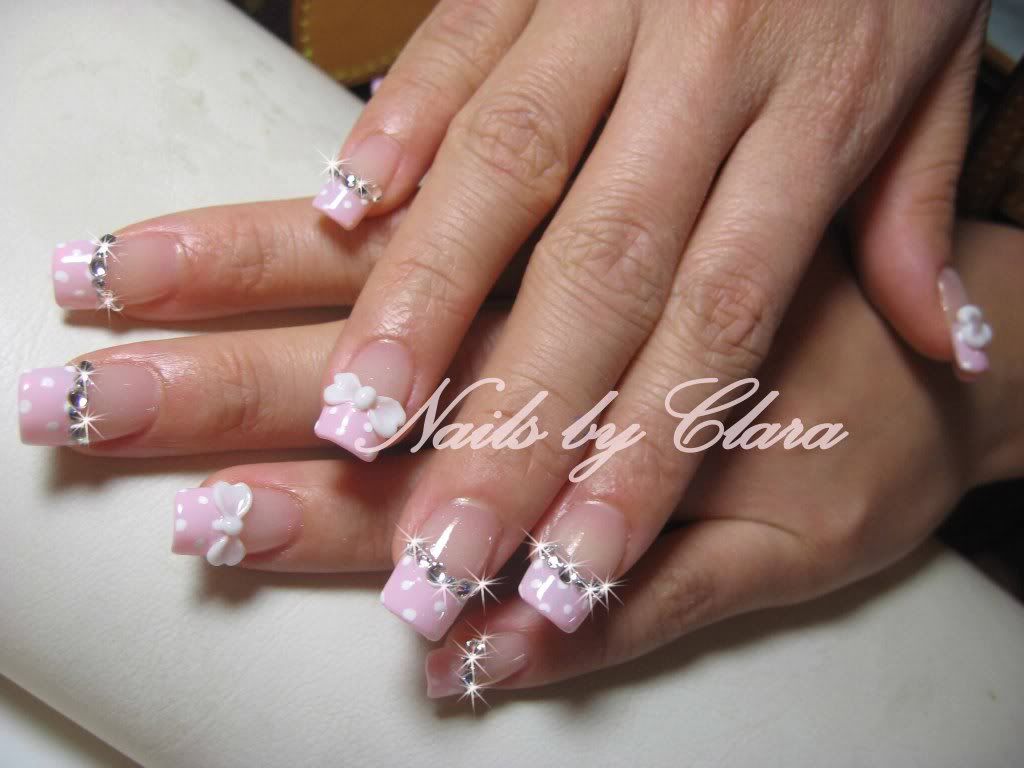 Ok, I'm dead beat. I'm going to scurry off now. My big moving day is tomorrow! There is much to do! Take care you peeps! Nail guru signing off!
Wednesday, December 10, 2008, 3:25 PM
BLING.
Purple bling! This photo just doesn't bring out the bling-ness enough.
This is another shot of the chevron lace tip design that i didn't post earlier. :)
I'm sure some of you out there are concerned with people stealing my works or images. I would really be pissed off if my images were used without my permission, but if it were fellow manicurists getting inspired by my designs and hence creating a similiar set, im perfectly fine with the idea if there were proper credits. Hopefully it is understood that this is the basic respect we show to each other in this profession, or any other profession for that matter. Claiming designs as your own is not right. Having clients who go to you with my designs/pictures asking you to create the same set and you, not crediting my work instead claiming it as your own, is NOT right. I'm sure you wouldn't like others to do the same to your original idea. =)
Whatever it is, thank you, caped crusaders who sniff such trouble out, i appreciate your effort to safeguard originality and proper crediting to the deserving artist. =)
I will continue to create beautiful nails for all to admire, desire and get inspired.
ta~
Nail guru
Wednesday, December 3, 2008, 3:59 PM
A quick one.
A quick post before my appointment!
This set done quite some time back. but looks very sweet.
Been busy arranging shop stuff. will be back for more detailed posts soon!
ta~
Nail guru