Thursday, February 25, 2010, 3:10 PM
Airbrush lace on clear tip!
This was a sample of 1 nail i did just to test the result of airbrush inlays. Turned out pretty nice eh?
I used a clear acrylic base, and black paint for the lace pattern. Added some crsytals. :)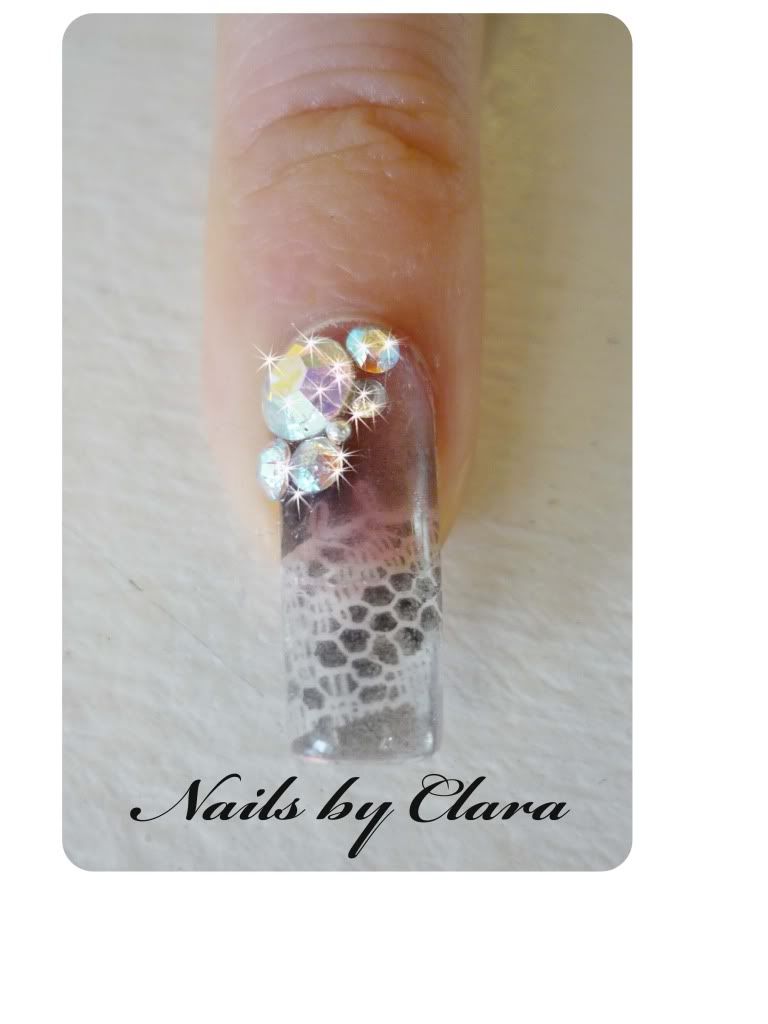 Hey! more to come!

I'll be away in Phuket from the 28th feb to 8th of mar. Need this long break to get away from it all. Will be back with more pics!
Wednesday, February 24, 2010, 10:55 PM
Pandemonium!
Panda set of nails. Done sometime ago, inspired by some magazine.



Wahaha. So cute. Polka dotted black and white to match the panda heads, with a mini lace pattern near the base with crystals, not forgetting the pink ribbons. Panda heads made from acrylic and details are painted on.
Tuesday, February 23, 2010, 5:56 PM
Light purple blue delight!
Airbrushed milky purple and blue tips with white strips. Pretty white flowers to accentuate the pretty base colour.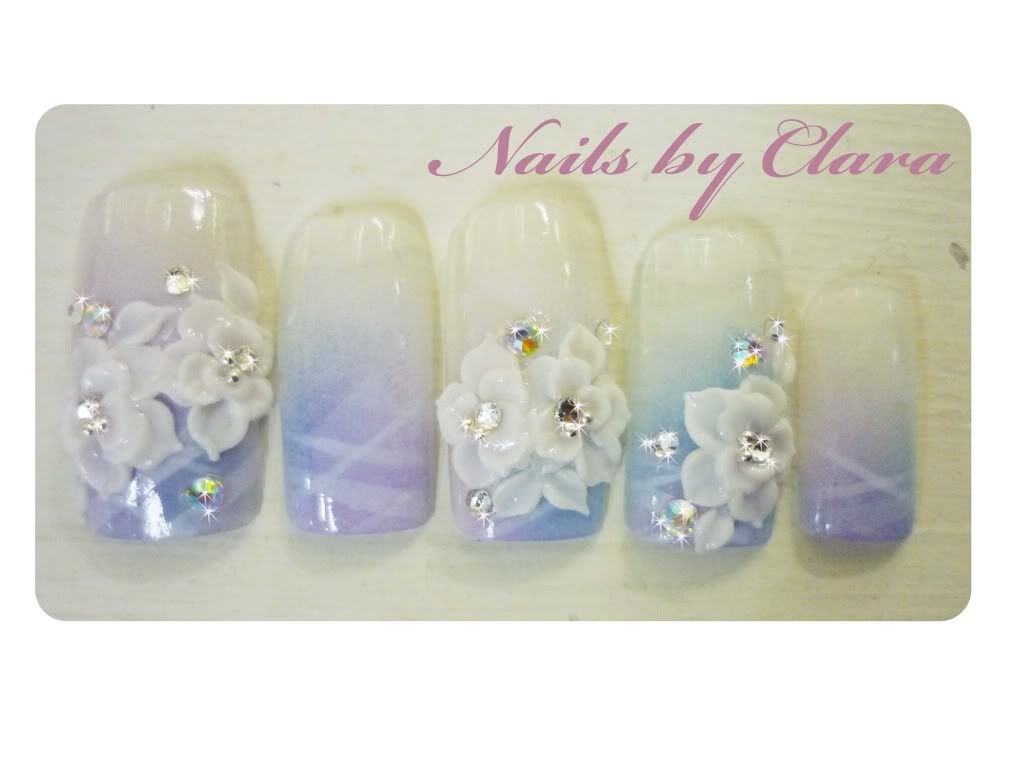 Random note..

I think I should start painting again now that the busy period is slowing down.

I love this little watercolor painting of this kitty.



Monday, February 22, 2010, 4:55 PM
Clear tips and Petunias!

Happy Lunar New Year!!!
Sorry for the hiatus! I'm not too late i hope! Chinese new year has 15 days anyway right? Hee hee.

I was crazy busy with appointments, with no time to eat, pee, poop or sleep. Now that it has slowed down slightly, can blog again.

I have loads of pics of my work from the cny season, none of them red nor festive. hahaha. But exciting I assure you. Please be patient while i edit them and work on the hair tutorial i promised you guy's i'll do. I can't decide if you guys would prefer a pictorial one or a video type tutorial. Help me with that please?

Anyways this will be a quick one.

Two sets done some time ago. Done on different people with different colored flowers. I started a clear tip base, and worked on multi soft colored petunias to be embedded.


This set i did with a baby blue and white.

Ok offday today and I need to go and enjoy it now and stop working for a day!!!
haha.
Toodles~
Nail guru