Profile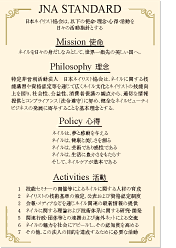 Petit Nail House has been beautifying nails since 2006. Licensed by the Japan Nailist Association (JNA), specializing in acrylics and elaborate nail art, we also offer simple treatments and therapy to soothe the tired hands and feet. You will always leave PNH with fabulous looking nails!

Locate us

You can find us beautifying nails in Jeric Salon@ Bugis Junction unit 02-01 (within Jeric Salon, yes you can now get your hair and nails done at the same time!)



How to get to PNH

By Train

Bugis Junction is situated right next to Bugis MRT station



Contact PNH



Mobile no: +65 96714115

Email: Petitnailhouse@gmail.com

Skype ID: mamiclackie

Msn ID: Clackie@hotmail.com



Tweet Tweet





Tag

Tagboard





Fun Stuff



Add me on Facebook



Add us on Facebook Groups



My idols





Nail school




I am licensed by Japan Nailist Association


Links
Karen Ashley
Celeste
Koji
Cheryl
Cindee
Elaine
Wendy
Ashley
Angelababy
Nira
Xiaxue
Dawnyang
Archives
November 2008
December 2008
January 2009
February 2009
March 2009
April 2009
May 2009
June 2009
July 2009
September 2009
October 2009
November 2009
December 2009
January 2010
February 2010
March 2010
April 2010
May 2010
June 2010
Recent
We have gone live!!!
Quick! Follow and like us!
Happy to report!!
Blogging is like going to the dentist.
Only hello kitty ribbons. Where's kitty?!
3's a crowd!
Silver shimmer ribbons and pearls
Something simple. And self discovery.
Airbrush lace on clear tip!
Pandemonium!
Tuesday, September 29, 2009, 10:03 PM
Embossed roses on funky black wallpaper background
Check out cute roses I've done on this half-black, half-pink stripey, glittery, sequinned background! For the first time, the background took a longer time to do than the roses. haha. enjoy!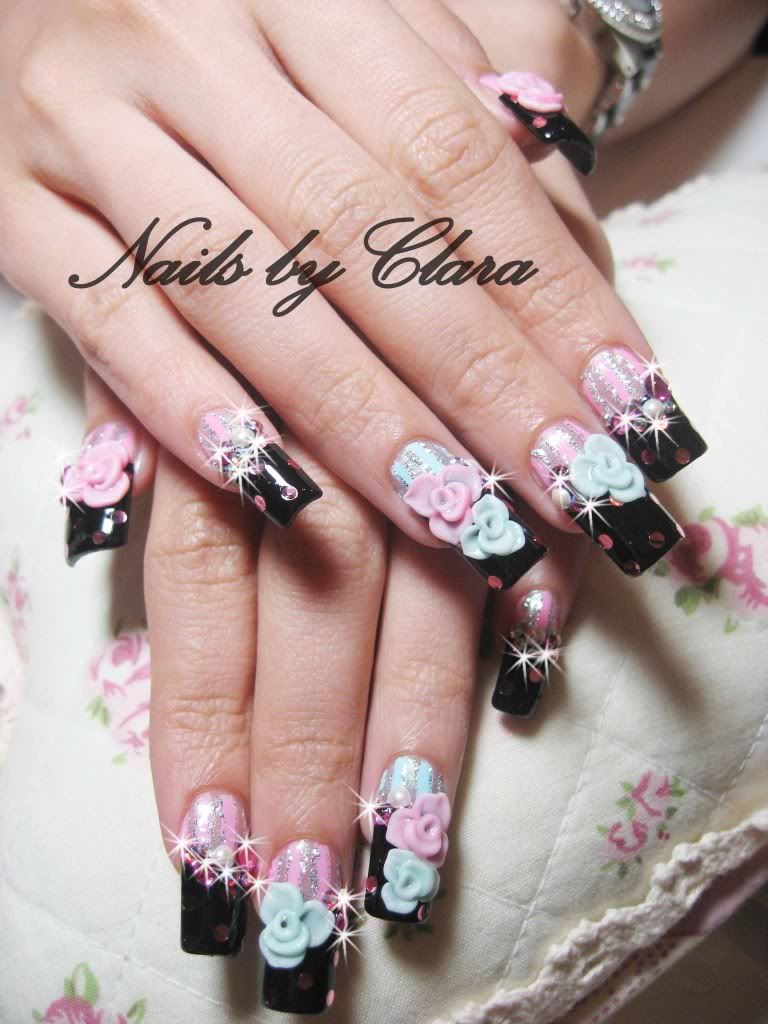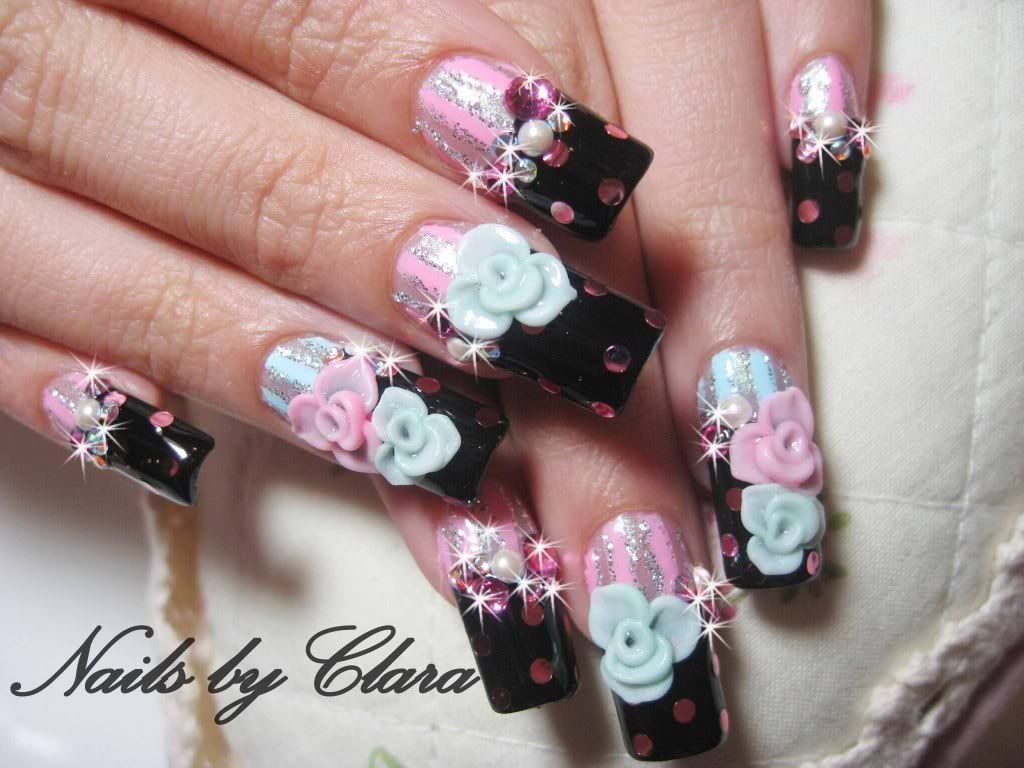 I've been so busy this month! Is it because the 7 month ghost festival is over and now everybody is getting married/has a wedding to attend/has a wedding photoshoot. After the ghoul-y festivities, its celebration for the humans. hehehe.

I've also been getting myself obsessed with all things fafi. I love the idea of carmine vault. So quirky, and I've copy-drawing her fafinettes too! Will post some pics of them up here. Something random, I love the smell of colour pencils. The fresh, woody scent that is released when i open my box of pencils.

I was an art student back in school and did much painting, drawing and sketching, but when I started doing nails, the only things I've been drawing on at all are nails. People like my sister have constantly been urging me to draw more often, take out those paints and squish some pigments from time to time. Too busy, (or lazy) it think. I'm starting to feel like I've allowed my art education in Nafa and lasalle go to a complete waste. I love holding my brushes and my pencils, and my willow charcoal, but I've been completely neglecting these things i love to do. I'm starting to get back into it, I've started to go back to my beloved Art friend, hanging out there on my days off, soaking and basking in all the beautiful art materials they have to offer. Rows and rows of beautiful paints, pastels, markers in all colours on the spectrum. Stacks of lovely drawing paper and canvas in all textures, weight, primed, un-primed. It's almost, poetic. I love art stores.
You should visit an art store too if you can. It's therapeutic. For me at least it is.
Ok going to sign off. I'm exhausted from work today.
Much love,
Nail Guru
Friday, September 11, 2009, 2:54 AM
Pasta cooked by my Italian.
OMG.

I had the best dinner ever today. Total grocery bill was $7.20 (packet of penne and fresh tomatoes including random stuff like cherry tomatoes i insisted on buying) Ok my point is, my smelly farty boyfriend cooked dinner for me! I think its the first time a boyfriend cooked anything for me. That's really sad and happy at the same time eh?

Anyway, HE COOKED FOR ME!! I just can't get over it.

It really initially was my idea to cook and eat at home, because we had some leftover gourmet sausages and fresh button mushrooms, so I thought, why not cook pasta? Then we went to mustafa to pick up some penne and pasta sauce, thinking it was going to be an easy quest, I just set off to the pasta section, looked around for a decent packet of penne and was about to walk off with one when he says, 'NOoo. We have to pick a good italian brand!' *rolls eyes* Then he picked his pack of packed pasta then I headed off to the pasta sauce section, thinking of just picking up a bottle of prego sauce, fast and easy. BUT NO. He says, 'Are you mad? I'm italian, we make our sauce from scratch, not eat bottled sauce.' Seriously? *Roll eyes to the back of my head* Then I nudge off the indians (it's mustafa lah) surrounding the tomato mountain to pick some ripe ones. Then proceeded to pay.

So I thought, urgh, I have to spend more time chopping tomatoes and making the sauce from scratch. Then Mr Picky says go and relax, i'll make the pasta.

WAH. first time leh. sorry i'm still reeling from it.

I didn't know whether to trust him in the kitchen so i progressively went from, you can or not? you sure you don't need help? you can handle it? you need me to do anything? to....oh ok, sure ah, don't need help ah. ok, i want mine spicy. haha. So tralala, hop and a skip to the room to chill maaaan. Spent about an hour holed up in the room watching youtube videos and laughing my ass off. Then he comes in and TAADAAAA. A dubious looking plate of pasta.

So we sat ourselves in front of the telly and started watching the movie OUTSOURCED and I took my first real bite of the pasta.

YUUUUUMMMMMMMMMMMMS!!!!!

Ok that's all I can say. Basically my boyfriend outdid himself by cooking for his girl and making pasta sauce from scratch. Impressive.

Yummiest pasta, funny movie, lotsa cuddles and hugs on the sofa = great date

The simplest and most enjoyable things in life often come for free, or at an extremely affordable price of $7.20.
Conclusion is, leave the pasta making to the Italians. They KNOW what they are doing. This particular italian does housework and adds softener to laundry, dilutes dishwashing liquid before use (claims he is saving the earth). Italian man-servant for hire anybody? Price negotiable. I'm his agent. :D hahahahahha.

Goodnight everybody.

12:02 AM
Tags replied!!!
Christinee: Yes i do round edges for nails but square shaped nails are still more popular in Singapore.


sylvia: I use nail glue to secure the bling blings :)

apple: I'm currently using Charisma for the extensions and a mix of ez-flow some custom mix powders i concoct myself.

dblchin: thank you! check back for more updates!

fran: thanks!!! All you guys support make me love my work more each time!

pinko: gel extensions are 98, the lace tips are inlay so they are an additional 50 and the crystals are another 80, doing this set on acrylic nails will be slightly cheaper :)

sheyanne: Do come down for an appointment and we can always create something to your liking! I can even customize to your wedding gowns!

w: I use professional salon curlers, the high heat settings enable the curls to last longer, also a good curling technique will help distribute the heat in your hair more evenly. Try to make the roots to the end as dry as possible, as moisture makes it really difficult to curl your hair nicely and humidity just straightens it even faster.

QL: hey, not sure if i've replied you, if not, a thousand apologies as i get flooded with enquiries and i miss out some mails and smses sometimes. I will double check if possible :)

Tracy: the disco ball nails are 148 inclusive of the gel top coat.

jac: refer to above reply! cheers! :D

fionz: I will look for your email and mail you about the appointment, either that or leave me a number! cheers!

evelyn tan: I would have replied you on msn by now as you have messaged me earlier. :)

Rach: sorry dear i have privatized my photobucket account as some photos in there are private, and also because i upload nail pics in bulk and they are meant to be blogged about individually. Do keep a lookout on my blog for updates! Im sorry about this! :)

to all the taggers who left a tag on my hair, thank you for your suggestions!! i really appreciate it and my hair is still straight by the way!



Thursday, September 10, 2009, 12:50 AM
French acrylics with pretty blossoms
Hello everyone! I've finally changed the layout of my blog as well as the header. I've also added information about PNH on the sidebar so you can locate me even find my contact number there! I hope you like this blog revamp, nothing spectacular or special but i think simple enough to convey my message to all my readers!

I've also finally souped up my current laptop (installed PS cs3) so i can edit the nail photos and stuff! Previously was struggling with a non-mobile laptop with a cracked screen perpetually plugged into my tv monitor. So hence the lack of blog posts.

As you can see i've also settled in a new location (i believe very much more convenient location) in Central@Clarke Quay within the famed Jeric Salon. Apparently, coincidentally a lot of my clients actually visit that salon for their hair services as well only this time with me around, you girls can get hair and nails done at the same time!!! So i hope to see you there for an appointment soon!

I've also decided to blog a little more often, as i realized I've let my readers down by not blogging and posting beautiful nails often enough. I hope my words and works constantly inspire those who read my blog just as those blogs that i frequently read have inspired me. (Will add links to those inspirational blogs soon) I know how it feels when favourite bloggers of mine just don't post often enough, i often check their blog hoping anxiously that they have posted delectable pieces of work so I can devour them slowly and wait for the inspirational feeling to take effect on me. I post up stuff mainly of my work, and thoughts albeit a little random at times. I know i don't post enough, i promise to post up more works of my nails, my paintings (yes i paint recreationally), makeovers (yes i like to transform people too) my thoughts (much goes through my mind, i should record it down more often) I hope that in one way or another, whatever I post on this blog will inspire or affect you in the best way possible.

Anyway, here is a beautiful set of french acrylics with blossoms i added later to accentuate the simplicity of the nails. Done some time ago with sculptured white tips (was difficult as client had pretty short nail bed) with a shiny top coat and on top of it powder pink blooms.

Enjoy. :)



I'm gonna take a rest now and will reply to my tags and emails tomorrow. I have a pain in my lower back and it's killing me. Need to lie down and rest now. Take care people! Till then.
Over and out.