Thursday, May 28, 2009, 4:41 PM
PROMOTION!!!
My promotional poster is finally up!!! Took me ages to build this collage from scratch. I'm no photoshop expert so this was pretty tedious.
*Terms and conditions*
Promotion is only eligible for first-timers, or if your nails are clean of acrylic.
(so do tell all your friends who have yet to try!)
Current clients with acrylic on your nails don't fret! You do not enjoy this current promotion, BUT, you do get to enjoy a free soak off with every new set of acrylic done! (u.p $30)
This is an internet promotion. The discount will only be applied if you text the code word when you make your appointment.
Promotion is not applicable to package holders.
Promotion for the half-price acrylic extensions only applies if you do a full set of nail art with a minimum value of $50.
Promotion is applicable for Inlay designs. Gel top coat ($10) is not included.
Thursday, May 21, 2009, 9:06 PM
Peachy rose garden blooms!
I was working on a set of nails this afternoon and it turned out to be a super KAWAII set! Not this one i'm about to post but soon enough yea? It's been quite a while i've had clients asking for a bit of extreme nail art, as most of my clients prefer simple designs and bridal clients don't dare to try over the top. So i've been pretty stuck with doing mature, sophisticated flowery designs repetitively. But this set this afternoon has injected some challenge into my work day! Something super KAWAII at last. hehe. Nothing gives me greater pleasure than work satisfaction.


These nails are too pretty!! I mixed a combination of white and peachy pink roses alternating on every finger. The base colours are a silver pearl and gold multi-colour glitter gradation.
The result? A pretty sweet set of nails highly recommended for brides. :)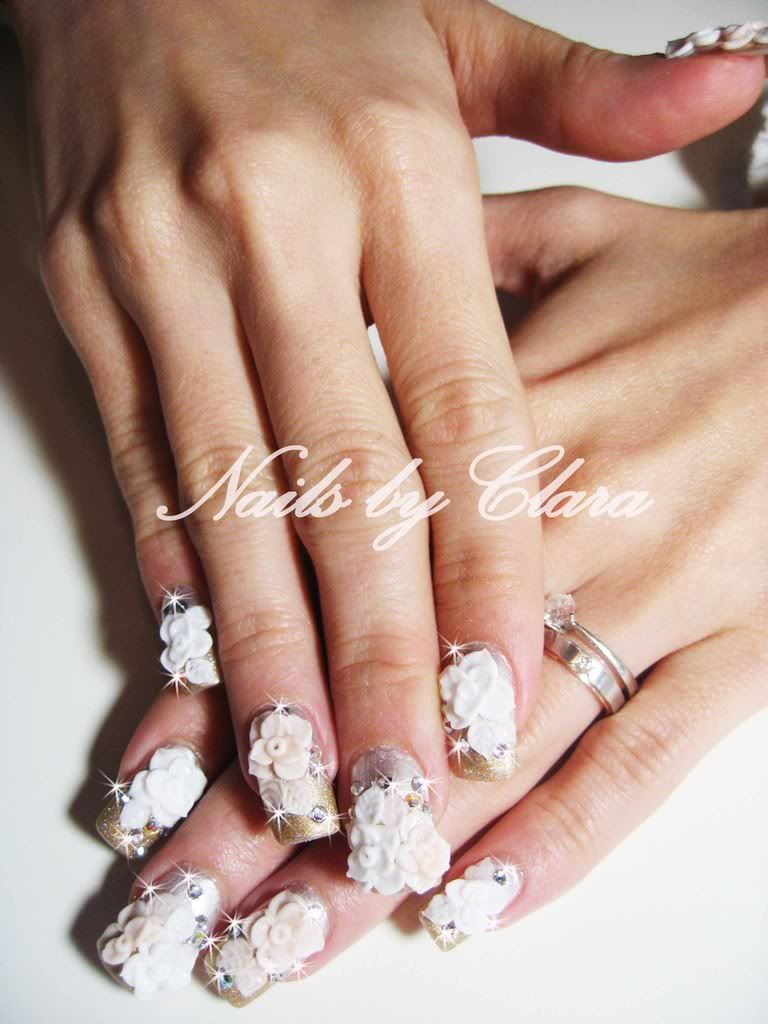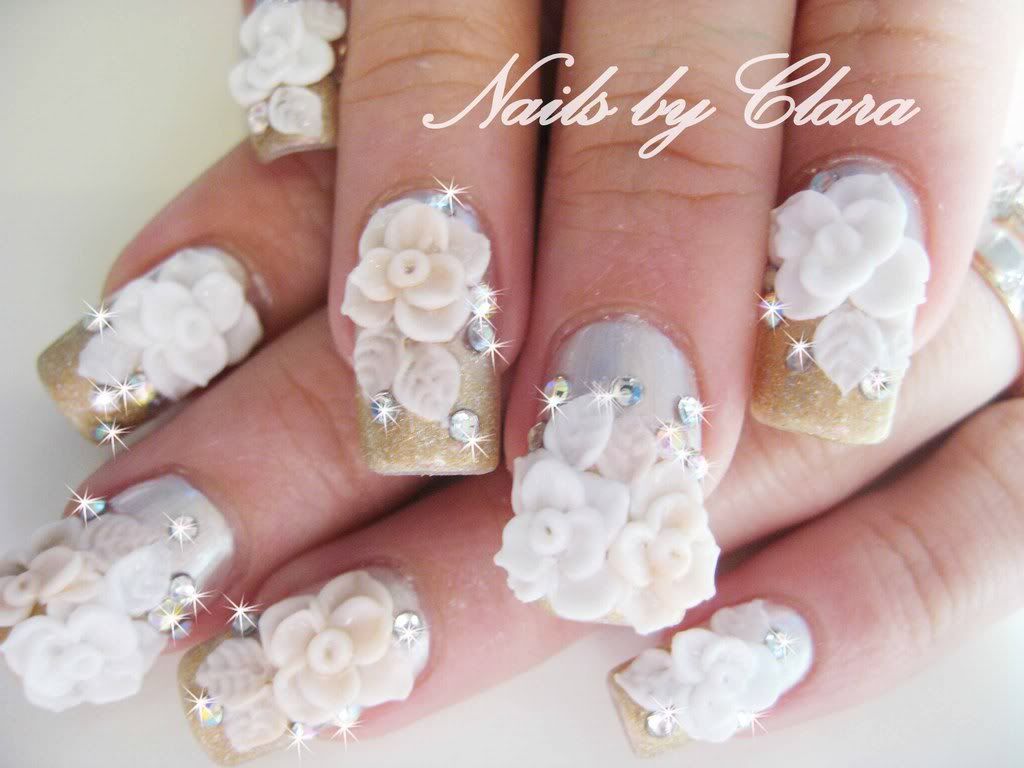 Back with more updates soon! Toodles~
Nail guru

4:17 PM
Super colourful summer flower nails!
So colourful and pretty! Colours of summer. This set done sometime back in CNY period i think. heehee.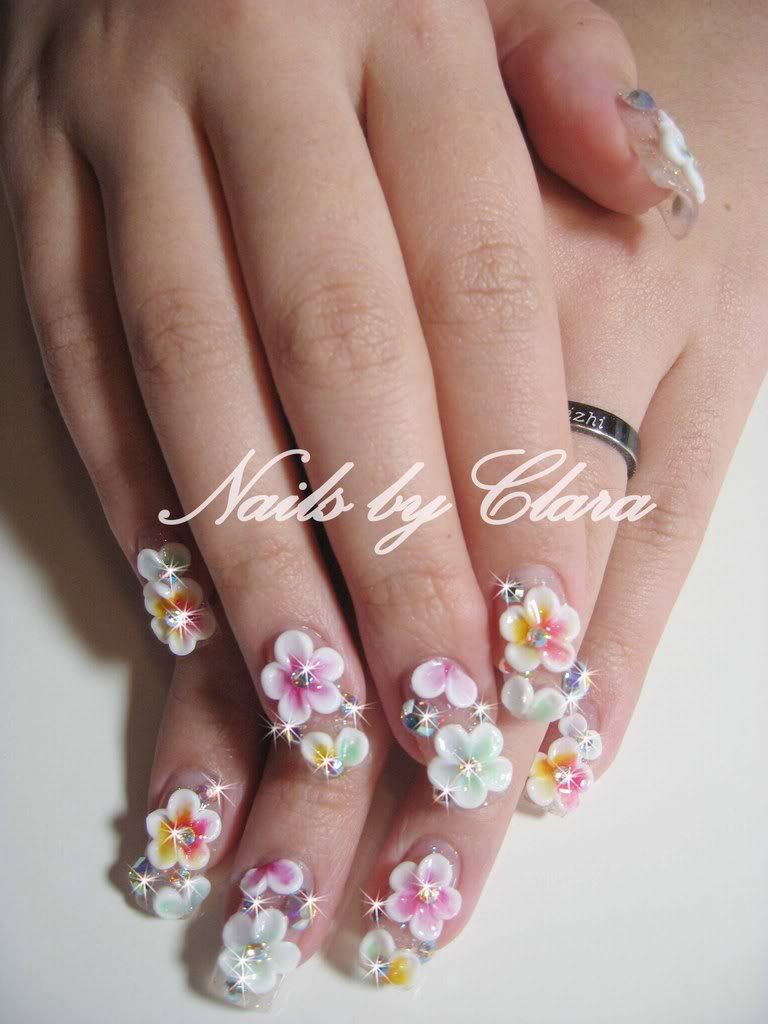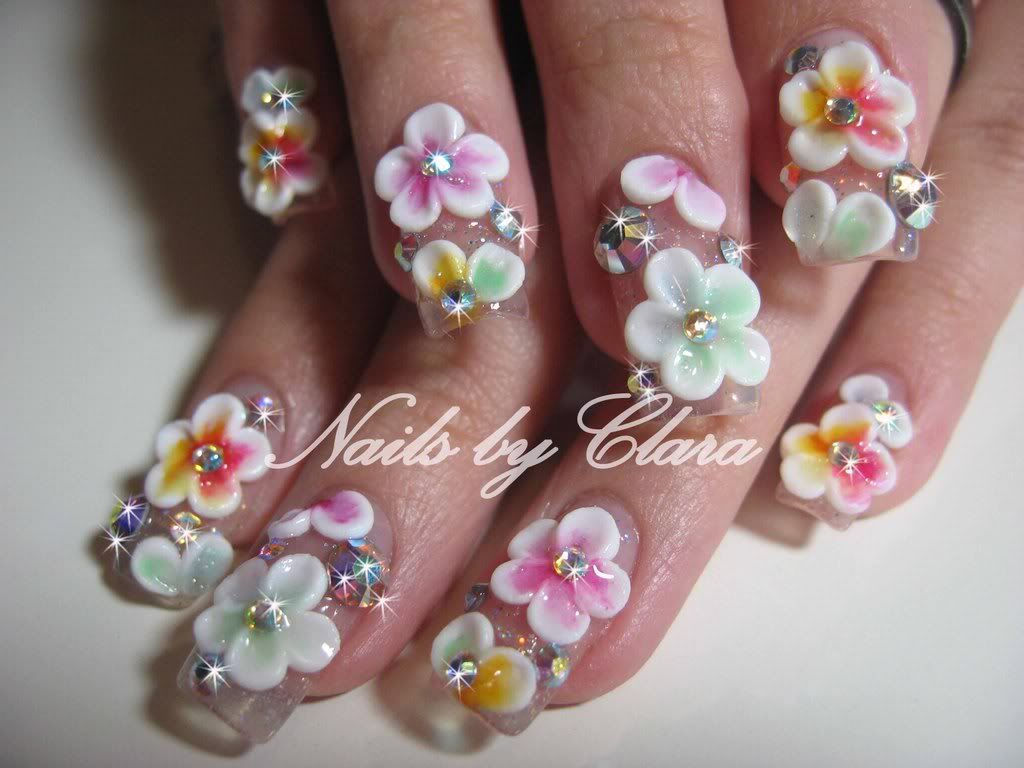 Ok I'm gonna take off. Just a short little post. Adios!
Nail guru
Wednesday, May 20, 2009, 2:43 PM
Hey I'm back from Tokyo!!
Hey all! I'm back from my super tiring tokyo trip and i'm officially broke. hahaha. I will post up pictures of my trip soon. But before i do that i will post up my promotional banner in a couple of days, I figured since i was out of the country no point posting up the promotion so early right?!
Now that i'm back it'll be up soon!!
And yes girls, I have recieved your emails (
petitnailhouse@gmail.com
) on wanting to be on mailing list for the promotion, I will text you not to worry! I'm so excited!!
I will leave you with another cute ribbon set, this set done on short nails!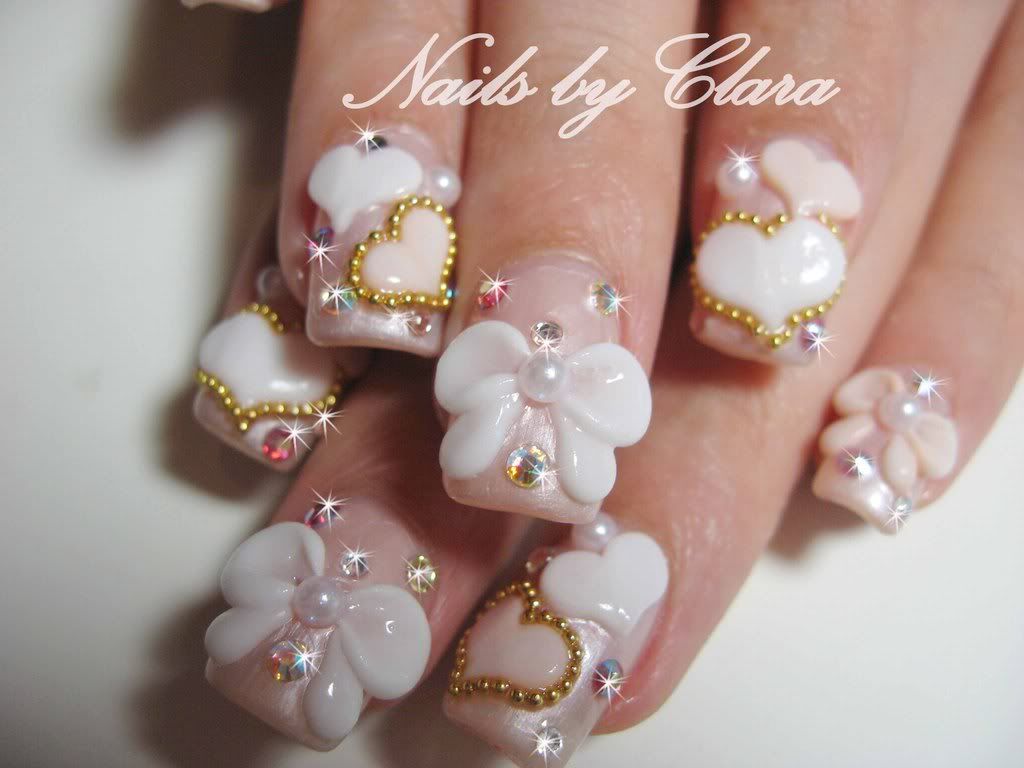 Laters peeps! Toodles~
Nail guru
2:23 PM
Tags replied!
Ivy: I am glad they lasted so long on you! You coming to do your nails soon right?! Think i just got your text!
W: hey i do stick crystals on both natural and acrylic nails. I use knoxx nail glue, its a pink nail glue i get from my suppliers. And yes, i give a coating to most of the crystals if they go blur from dried up glue.
rko: Infills are 38 for acrylic. Extra 10 if u need gel top coat.
Michele: Gift vouchers can be arranged and printed to the amount or service you would like to present to your mum.
ribbonfetish:The bling ribbons are 150 for a full set. The emobossed ribbons are set up as base for the individual crystals to be stuck on. It can be done on natural nails though not recommended. French manicure will cost you about 25+5 for the tips. Leopard tips will cost you another about 30 dollars depending on your length and colour combination. :)
Angela: the mj set doesnt belong to me. but i heard it can be bought btwn the range of 300-4oo sgd.
Kitty: The pink candy wrapper set will set you back at about 120 dollars for the art alone.
pinky gal: the bling bling ribbons cost 150 for the art alone. yes my shop is still located at club street. :)
jacquelynoh: dear please sms me on my mobile at 96714115 for appointments. i do not accept appointments through tagboard. hear from you soon! btw 30th may looks ok for now. :)
Clarise: I believe i have replied you dear, your appt is sat at 12pm.
fluff: clear ribbons set is 150 for art :)
Saturday, May 16, 2009, 2:55 AM
Konbanwa!!!
こんばんわ!
or rather because im blogging at this time of the night, or morning, it's
おはよございます!
I'm here to leave a few words from tokyo!! how is everyone doing??? i will be back on sunday so girls, if you wanna do your nails be patient ok? =)
much love from tokyo.
nail guru
Tuesday, May 5, 2009, 5:17 PM
Crystal encrusted ribbons!
Embossed clear 3D ribbons encrusted with AB crystals! Nail base is lace inlays! This client has infilled the lace inlays once or twice before.. This is a new design on her infills! Totally bling right??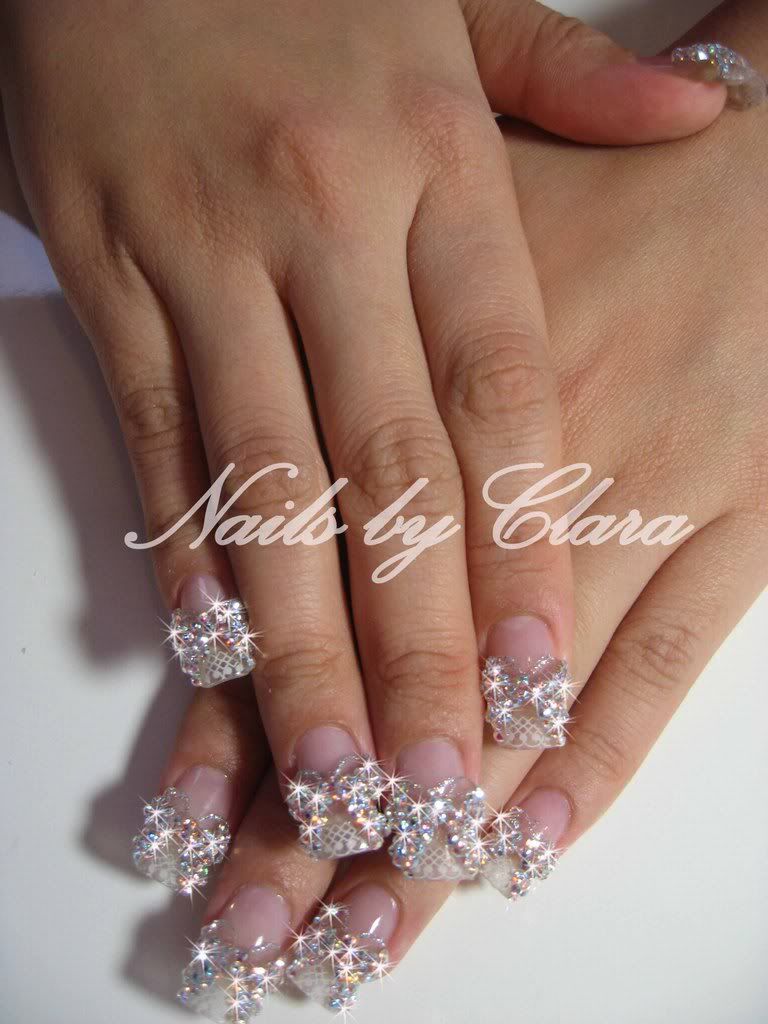 This set is suprisingly so hardy, that when my client came back for an infill, it was still all intact. Cool eh?
Okay.. will be back to blog about my weekend! More photos next!
Nail guru~
1:45 AM
Roses and rose hearts. Tags replied.
Roses in a bunch.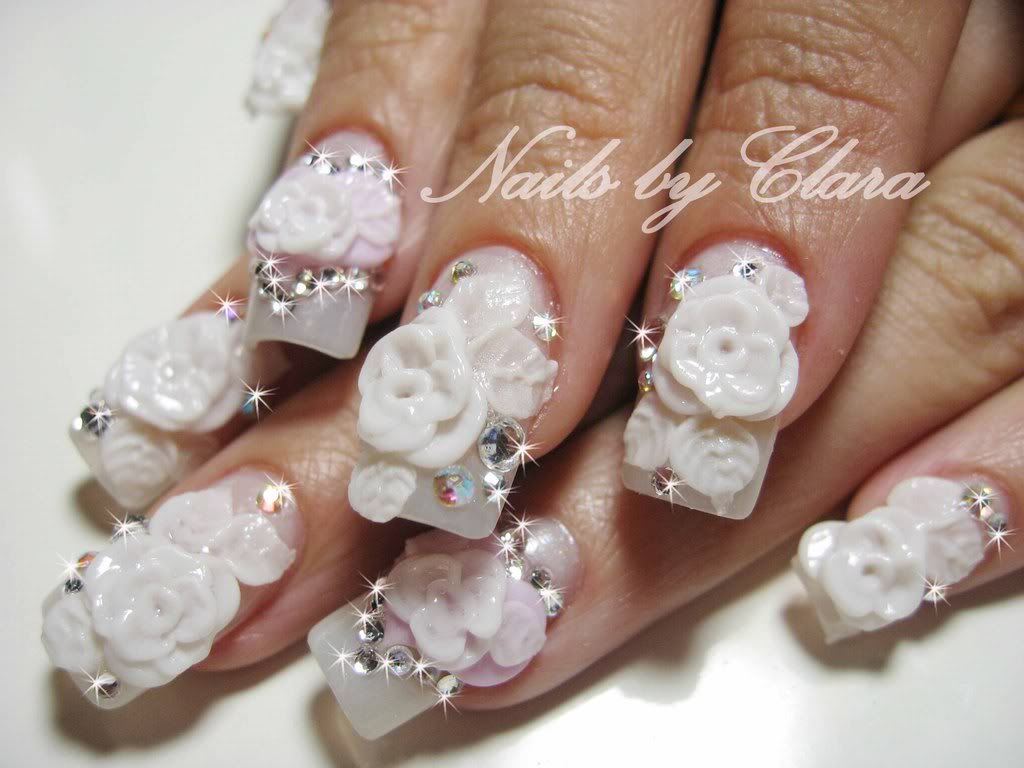 Okay.. here are the tags replied!
Mitch : Hey mitch, yes i do toe nails. I assume you are referring to pedicures?
Kitty: Hey kitty, any hello kitty nail art costs anything from 120-150 a full set.
Jen: Hey jen the profile song can be found on my sidebar player, but anyhow, the song is called Les pages by myrtille, its a Parisian compilation under the category of world music. It comes from a lovely CD compilation that donates proceeds from album sales to charities around the world. Ever heard of putumayo?
Guess who: Hey.. I'm glad you found me.. but I really can't guess who you are?
Missyhuihui: Hi.. I have a salon located at 21 club street 02-09. My website is not ready but you can call or sms 96714115 for further enquiries. :)
W: Hey w, I do not use nail polish to stick the stones on as that method is not lasting for the stones. I use nail glue instead.
Claire: Hey claire! Nope! I'm not japanese, im purely singaporean chinese and proud of it!!!
Vivi: Hey, the striped design would cost you about 110, and the leopard roses about 120. Thanks for the compliments! You should come down to get your nails done!
Calis: Thanks so much for your concern! I really appreciate the support, im fine now though! :D
g0ldfish: Hey was your question for me or for vivi?
Newly: Hey, yea sure! Do visit me at my shop, its located at 21 club street 02-09 nearby chinatown. You can call or text me at 96714115 for more enquiries as my website is not ready yet! Cheers!
Marie: Hey Marie! You can contact me via my mobile at 96714115.
Grace: Refer to above reply for my contact. cheers! :D
Ling: Hey dear, better make an appointment fast! I will be away for a week in the month of may from the 12th to the 17th in Tokyo. :D
Rach: Hey dear, I'm located at 21 club street 02-09 nearby chinatown.
Pebbles: Refer to above. Cheers!
Tri: Hehehe. Yes I would love to think of it as hot stuff too. Will be working on more hot stuff! I love my work!!!
Isabella: Refer to my reply to Rach. Cheers!
Missyandie: You can first book your appointment and confirm it again one month before the appointment date. :)
Mae: Hey! Glad you love my work, you can save them for personal reference but please do not re-use the photos in anyway without prior permission.. enjoy the pictures! :D
Passer-by: Hey, The mj set does not belong to me, but to my friend. I heard she ordered it somewhere, but I think you can get it from a hello kitty shop located in Chinatown point. Or alternatively you can try e-bay, they have it there too. :D
Joey: Hi, do refer to the replied tags above for the information you need :)
Trina: Do book the appointment first, then confirm one month before. :D
interested: Do refer to above replied tags for the information you need :)
=): Hi, I replied to the tagger passer-by, do refer to that reply, cheers!
anon: Do refer to above replied tag. Cheers! :D
Finally answered all tags! I'm sorry but I'm still working on my website, it's coming along well but requires alot of time and effort, thank you for your kind understanding. Working on the art work for my promotion poster, so keep a lookout for that one, coming really soon.
I will be away in Tokyo from the 12th to the 17th of May, so do take note before making your appointments!
Goodnight peeps!
Nail guru~