Profile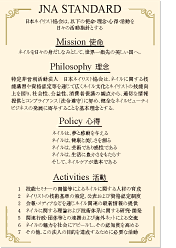 Petit Nail House has been beautifying nails since 2006. Licensed by the Japan Nailist Association (JNA), specializing in acrylics and elaborate nail art, we also offer simple treatments and therapy to soothe the tired hands and feet. You will always leave PNH with fabulous looking nails!

Locate us

You can find us beautifying nails in Jeric Salon@ Bugis Junction unit 02-01 (within Jeric Salon, yes you can now get your hair and nails done at the same time!)



How to get to PNH

By Train

Bugis Junction is situated right next to Bugis MRT station



Contact PNH



Mobile no: +65 96714115

Email: Petitnailhouse@gmail.com

Skype ID: mamiclackie

Msn ID: Clackie@hotmail.com



Tweet Tweet





Tag

Tagboard





Fun Stuff



Add me on Facebook



Add us on Facebook Groups



My idols





Nail school




I am licensed by Japan Nailist Association


Links
Karen Ashley
Celeste
Koji
Cheryl
Cindee
Elaine
Wendy
Ashley
Angelababy
Nira
Xiaxue
Dawnyang
Archives
November 2008
December 2008
January 2009
February 2009
March 2009
April 2009
May 2009
June 2009
July 2009
September 2009
October 2009
November 2009
December 2009
January 2010
February 2010
March 2010
April 2010
May 2010
June 2010
Recent
Only hello kitty ribbons. Where's kitty?!
3's a crowd!
Silver shimmer ribbons and pearls
Something simple. And self discovery.
Airbrush lace on clear tip!
Pandemonium!
Light purple blue delight!
Clear tips and Petunias!
This is too cute. Potential nail art inspiration.
This design catches the eye of most of my clients ...
Friday, May 14, 2010, 12:07 AM
Blogging is like going to the dentist.
Blogging is like going to the dentist. At least for me it is.

It's like, you put it off for the longest time, and keep making empty promises to yourself to go, and when you eventually do go, you finish feeling so darn good about yourself and your teeth.

SO.

About my blogging, sorry for the mini hiatus. I have been really busy. I've had appointments and work swamped up to my neck I don't have time for my special people and many other things that need to be done but haven't been done. Like going to the dentist for one. haha

So, one might ask, what the hell have you been up to? You only do nails dammit.

Well yea, i do nails, gorgeous ones i might add, but most recently, I've had the most awesome inspiration to do something even better with my current nail business. As you know, Ive always been working alone, teetering in and out of different locations to the point that I'm sick of packing my nail polish into paper boxes and unpacking them onto the shelves. Well, that you can only blame on ruthless shark-like land lords who want a piece of you seeing that you do a little better than the rest of the tenants, or just plain hard to reach/find locations like club street. Well don't hate me, hate the game!

I have decided that I'm taking Petit Nail House in a slightly different direction. I have never been one to conform to the regular massmarket/homebased nail salons. In fact I'd proudly say I was a pioneer in my field of introducing affordable nail enhancements and extraordinary nail art, waaaaaaay before acrylic nails became more popular than stick-ons and definitely WAAAAAAY before nail blogs and home-based nail salons popped up like beansprouts all over the place and suddenly everyone claims to be nail experts/queens etc. I'm happy to have been the one who stuck the flag in the soil first. I'm the coolest nail girl in town. :D

I guess I owe my constant longing for re-invention and foresight to my years of art education, my deep passion for coming up with new high street fashion design nails that I never dared to reveal until now. And PNH soon will no longer be known as PNH. I will reveal the plan and my new name in a few weeks so keep a lookout here!

A spanking brand new website is on it's way, and I promise it's more interactive, more fun, and waaaay easier for me to answer all your queries! I'm working closely with my web designer on a photo shoot for some awesome new company video and images! All the planning and all the work involved can you imagine?!

On top of that, I'll be holding several mini soft launches on this new branding of PNH at the end of this month, at several flea markets! So you can see our new logo, new direction, and the last but not least, new NAIL LOOKBOOK i'm working on! I will provide the details of these events in a few days and make sure you be there, because there'll be some sweet deals at the booth on our nail art!

So toodles, said the coolest nail girl in town :)