Roses and rose hearts. Tags replied.
Roses in a bunch.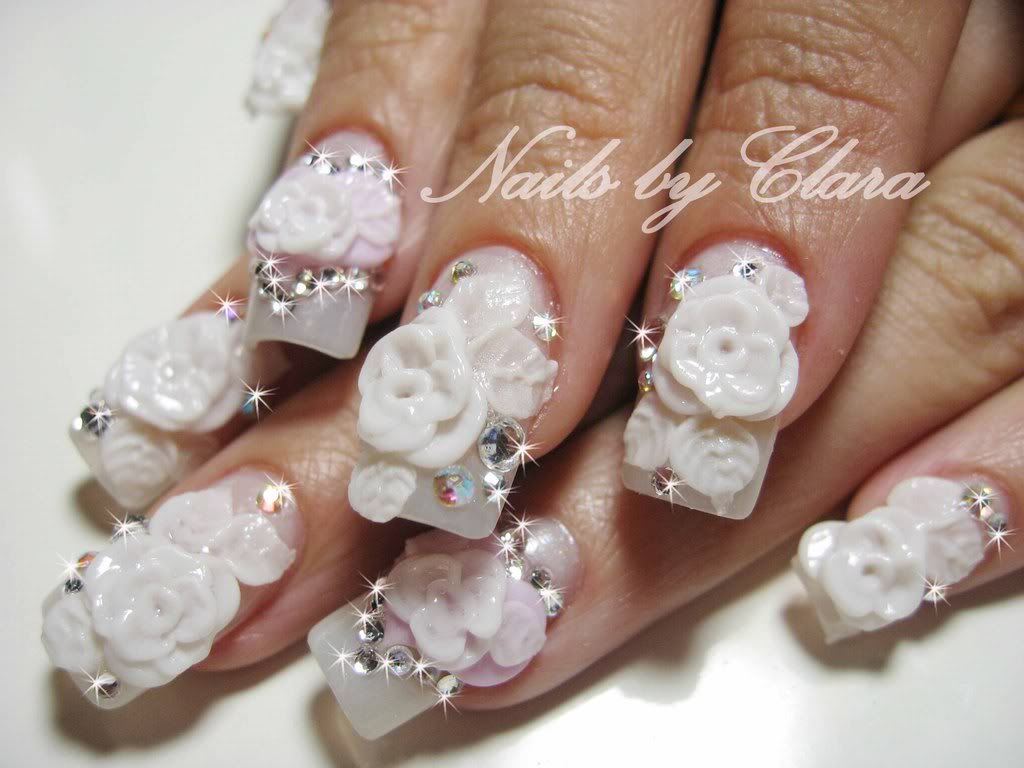 Okay.. here are the tags replied!
Mitch : Hey mitch, yes i do toe nails. I assume you are referring to pedicures?
Kitty: Hey kitty, any hello kitty nail art costs anything from 120-150 a full set.
Jen: Hey jen the profile song can be found on my sidebar player, but anyhow, the song is called Les pages by myrtille, its a Parisian compilation under the category of world music. It comes from a lovely CD compilation that donates proceeds from album sales to charities around the world. Ever heard of putumayo?
Guess who: Hey.. I'm glad you found me.. but I really can't guess who you are?
Missyhuihui: Hi.. I have a salon located at 21 club street 02-09. My website is not ready but you can call or sms 96714115 for further enquiries. :)
W: Hey w, I do not use nail polish to stick the stones on as that method is not lasting for the stones. I use nail glue instead.
Claire: Hey claire! Nope! I'm not japanese, im purely singaporean chinese and proud of it!!!
Vivi: Hey, the striped design would cost you about 110, and the leopard roses about 120. Thanks for the compliments! You should come down to get your nails done!
Calis: Thanks so much for your concern! I really appreciate the support, im fine now though! :D
g0ldfish: Hey was your question for me or for vivi?
Newly: Hey, yea sure! Do visit me at my shop, its located at 21 club street 02-09 nearby chinatown. You can call or text me at 96714115 for more enquiries as my website is not ready yet! Cheers!
Marie: Hey Marie! You can contact me via my mobile at 96714115.
Grace: Refer to above reply for my contact. cheers! :D
Ling: Hey dear, better make an appointment fast! I will be away for a week in the month of may from the 12th to the 17th in Tokyo. :D
Rach: Hey dear, I'm located at 21 club street 02-09 nearby chinatown.
Pebbles: Refer to above. Cheers!
Tri: Hehehe. Yes I would love to think of it as hot stuff too. Will be working on more hot stuff! I love my work!!!
Isabella: Refer to my reply to Rach. Cheers!
Missyandie: You can first book your appointment and confirm it again one month before the appointment date. :)
Mae: Hey! Glad you love my work, you can save them for personal reference but please do not re-use the photos in anyway without prior permission.. enjoy the pictures! :D
Passer-by: Hey, The mj set does not belong to me, but to my friend. I heard she ordered it somewhere, but I think you can get it from a hello kitty shop located in Chinatown point. Or alternatively you can try e-bay, they have it there too. :D
Joey: Hi, do refer to the replied tags above for the information you need :)
Trina: Do book the appointment first, then confirm one month before. :D
interested: Do refer to above replied tags for the information you need :)
=): Hi, I replied to the tagger passer-by, do refer to that reply, cheers!
anon: Do refer to above replied tag. Cheers! :D
Finally answered all tags! I'm sorry but I'm still working on my website, it's coming along well but requires alot of time and effort, thank you for your kind understanding. Working on the art work for my promotion poster, so keep a lookout for that one, coming really soon.
I will be away in Tokyo from the 12th to the 17th of May, so do take note before making your appointments!
Goodnight peeps!
Nail guru~